Ore 17
Oggi Tuttobici aveva battuto la notizia riguardante il sito del Tour de France, che per un errore di oscuramento pagina aveva pubblicato il percorso della Grande Boucle. Stesso errore sul sito della Gazzetta, che nella pagina internazionale non ha oscurato il percorso ufficiale, che era stato anticipato in parte su Tuttosport nel numero odierno, e ha lasciato in chiaro le tappe. Eccovi dunque in anteprima il tragitto del Giro d'Italia con stelle di difficoltà e chilometraggio, con una immagine della pagina pubblica su gazzetta.it nella sua versione inglese. Il sito che state visitando è dunque il primo ad aver dato in anteprima il percorso ufficiale 2012 prima della presentazione.
Anche all'estero la notizia sta rimbalzando, ecco http://twitter.com/#!/Sander_Slager uno dei primi account stranieri che si è accorto dell'inghippo.
Un grazie anche a http://twitter.com/#!/Emmea90 che mi ha dato una mano per svelare l'errore.
Questa invece è la pagina pubblica da dove vedere il percorso: http://www.gazzetta.it/Speciali/Giroditalia/2012/en/#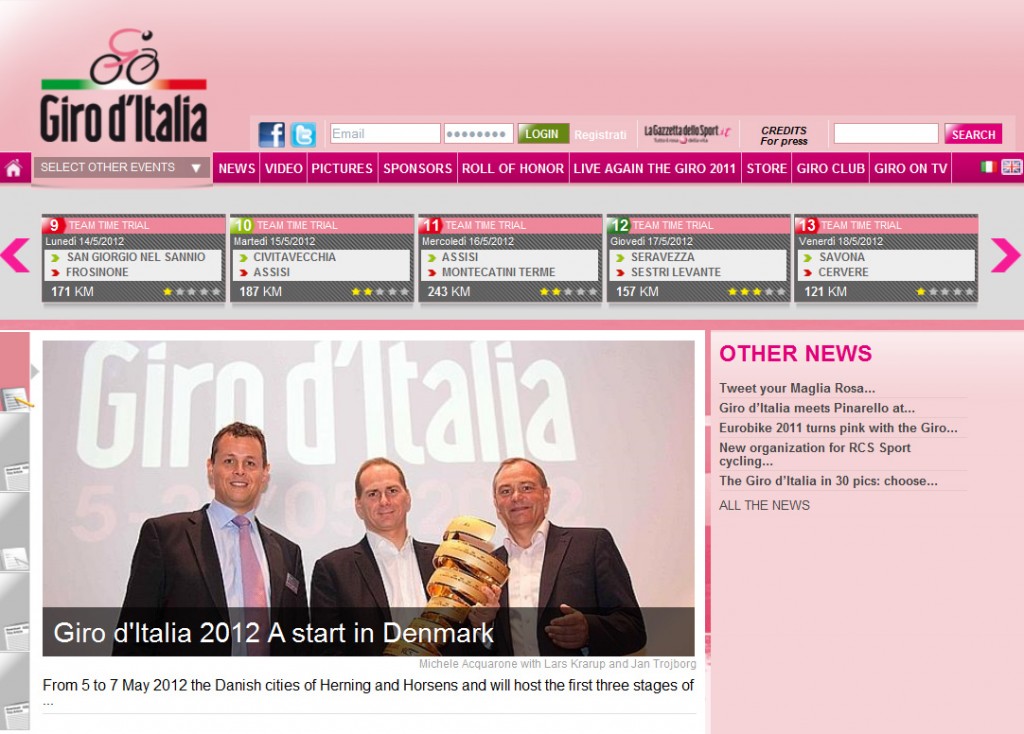 Queste invece tutte le tappe con chilometraggi e stelle di difficoltà
5 Maggio Herning – Herning (8,7 km) 3 stelle
6 Maggio Herning – Herning (206 km) 1 stelle
7 Maggio Horsens – Horsens (190 Km) 1 stelle
8 Maggio GIORNO DI RIPOSO
9 Maggio Verona – Verona (32,2 km) 3 stelle
10 Maggio Modena – Fano (199 km) 1 stelle
11 Maggio Urbino – Porto Sant'Elpidio (207 Km) 3 stelle
12 Maggio Recanati – Rocca di Cambio (202 km) 3 stelle
13 Maggio Sulmona – Lago Laceno (229 km) 3 stelle
14 Maggio San Giorgio nel Sannio – Frosinone (171 km) 1 stelle
15 Maggio Civitavecchia – Assisi (187 km) 2 stelle
16 Maggio Assisi – Montecatini Terme (243 Km) 2 stelle
17 Maggio Seravezza – Sestri Levante (157 km) 3 stelle
18 Maggio Savona – Cervere (121 km) 1 stelle
19 Maggio Cherasco – Cervinia (205 km) 5 stelle
20 Maggio Busto Arsizio – Lecco/Pian dei Resinelli (172 km) 4 stelle
21 Maggio GIORNO DI RIPOSO
22 Maggio Limone sul Garda – Falzes/Pfalzen (174 km) 3 stelle
23 Maggio Falzes/Pfalzen – Cortina d'Ampezzo (187 km) 5 stelle
24 Maggio San Vito di Cadore – Vedelago (139 km) 1 stella
25 Maggio Treviso – Alpe di Pampeago (197km) 5 stelle
26 Maggio Caldes/Val di Sole – Passo dello Stelvio (218 km) 5 stelle
27 Maggio Milano – Milano (31,5 km) 3 Stelle
Grazie anche a Tuttobici che ha linkato subito il mio blog con una news e una citazione http://www.tuttobiciweb.it/index.php?page=news&cod=43388
Aggiornamento 22.56
Ed ecco una galleria di screenshots che testimoniano l'errore gazzetta prima che, pochi minuti fa, oscurassero finalmente la pagina. Ecco tutti i dettagli
Se anche entro sabato venisse cambiato qualcosa prima della presentazione, resterebbe la falla nella progettazione del sito, più che altro la mancanza da parte dei webmaster di non aver oscurato le pagine straniere ma solo quelle italiane fin da subito.
Rassegna stampa: Aggiornamento delle 12.24 dell'11 ottobre:
Stamattina grande risalto hanno dato i giornali.
Ecco La Stampa http://www3.lastampa.it/sport/sezioni/ciclismo/lstp/424280/:
Come è potuto avvenire? Per la Corsa Rosa tutto è successo nel modo apparentemente più semplice ed elementare. Michele Bufalino, giornalista, appassionato di ciclismo e anche scrittore (di recente ha pubblicato un libro molto discusso sulle «bici dopate» a motore), ha semplicemente riportato sul proprio sito internet quanto era riuscito a copiare e incollare dal sito www.Gazzetta.it (non quello italiano, però, ma quello in lingua inglese), testata giornalistica sportiva online della Rcs che organizza il Giro. Un gioco da ragazzi.
Ecco cosa dice CyclingNews, il principale sito mondiale di ciclismo http://www.cyclingnews.com/news/giro-ditalia-stages-also-leaked:
Michele Bufalino says stages were also made publicly available on RCS SportAfter the earlier announcement today that ASO had inadvertently leaked the 2012 Tour de France details on the letour.fr website, the same may have also happened with the 2012 Giro details.

According to Michele Bufalino, the man responsible for the reporting on 'motorised push bikes' scandal, the route was made available on an English section of the main Giro website.
Altro sito internazionale, VeloNation http://www.velonation.com/News/ID/10056/A-strange-day-for-the-Grand-Tours-as-Giro-dItalia-route-also-leaked.aspx:
This evening though, amateur journalist Michele Bufalino – the man that claimed to have discovered Fabian Cancellara's 'doped bike' in the spring – found that the Giro's website had an unprotected page in its English language section that listed each stage. Like the inadvertently published Tour page, the Giro stage lists had no links attached, and no details about climbs tackled, but each stage did have the distance listed.
Da El Mundo: http://www.elmundo.es/blogs/deportes/escapa-dos/2011/10/11/tour-y-giro-revelados.html
RCS y La Gazzetta sí han reconocido que lo que ha saltado a la opinión pública es lo que tienen preparado y culpan del problema a un ataque de hackers compinchados para hacer saltar las medidas de seguridad de su red informática. [...] El recorrido del Giro fue descubierto por www.michelebufalino.com, para quien quiera consultarlo con mayor detalle.
Anche IlTirreno, quotidiano italiano, ha scritto questo nella sua edizione cartacea:

Mentre invece, l'Equipe incassa il colpo, La Gazzetta parla di una improbabile tesi hackeristica, mentre da informatico vi posso garantire che è stato un errore da principianti http://www.gazzetta.it/Ciclismo/10-10-2011/tour-tradito-suo-sito-ufficiale-803237157341.shtml:
[...]si accorgono che l'home-page dello speciale Giro in lingua inglese, sul sito Gazzetta.it, non è coperta da password, come dovrebbe. E iniziano a girare i dettagli delle tappe e le difficoltà altimetriche, in stellette. Dall'appassionato [...]  italiano, ed ecco che l'edizione 2012 non ha più segreti. [...] Adesso scatteranno indagini interne, verifiche tecniche. Ma alla fine della giornata più misteriosa di Giro e Tour, oltre alla comprensibile amarezza resta una certezza: capire, intuire, scoprire, anticipare il tracciato delle grandi corse a tappe è lo spionaggio industriale più ricercato in questo ambiente. Perché Giro e Tour restano sempre, a oltre cento anni dalla loro nascita, i simboli di questo sport.
Notizia riportata anche da tuttobici: http://www.tuttobiciweb.it/index.php?page=news&cod=43396&tp=n
Aggiornamento 14 ottobre:
E' stato pubblicato il Promo del Giro d'Italia 2012:
Aggiornamento 16 Ottobre:
Come avevamo anticipato, è stato presentato oggi il Giro d'Italia ufficialmente, e le tappe sono esattamente quelle che avevamo già preventivato nel nostro intervento di 6 giorni fa. Ben fatto!